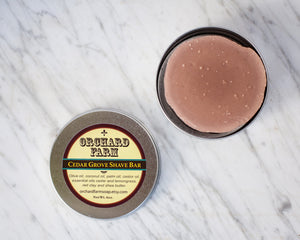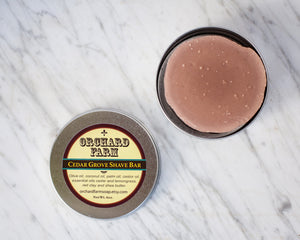 On Sale
Cedar Grove Men's Shave Bar
We have tried and tested these fantastic shave soaps here on the farm and with friends with great reviews.
Each set will come with one Cedar Grove Men's Shave Bar in a cool metal tin to store your soap in.
This shave bar is scented with cedar and lemongrass essential oils and contains red clay for it's great ability to protect the skin while shaving and still retaining moisture. Our formula includes castor oil to create great lather, coconut oil for long lasting bar, palm oil for it's antioxidant power, and pure olive oil for it's skin nurturing moisturizing ability.
To use, just wet your brush and lather. No need to wet the bar. And just like our body soaps these bars like to dry between uses to help them last longer.